NutriPlex Beauty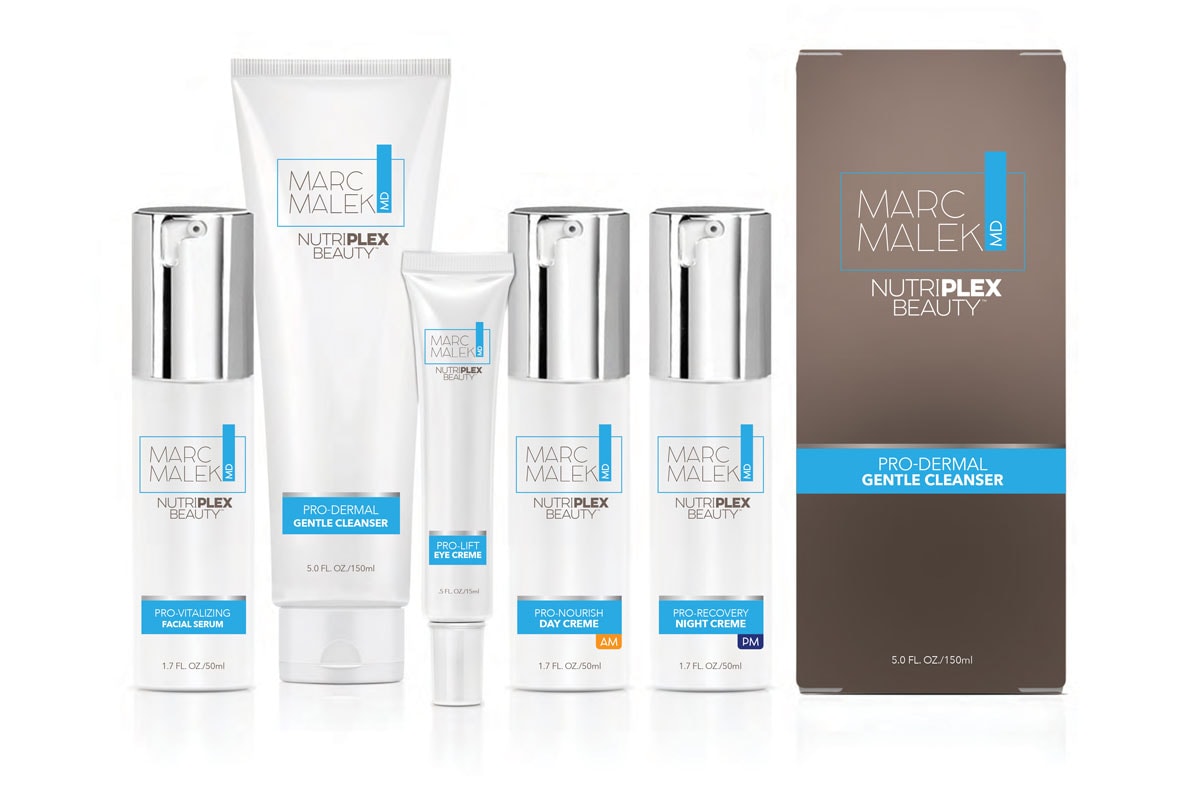 ---
Marc Malek M.D. is an experienced Plastic, Aesthetic, Reconstructive, Hand, and Microsurgeon practicing in Scottsdale, Arizona. He has dedicated his life to the study of the skin health.
During his years of practice he has been focused on the science of aging. There have been many advances available to help reverse, manage the effects of aging both surgically and through the use of topically applied skin therapy. He works very closely with estheticians as part of his practice and is constantly seeking noninvasive methodologies.
Years of research have allowed him to formulate what he believes is a revolutionary treatment protocol which is not only effective but beyond luxurious to the senses each time it is applied. His product formulations are the results of a 5-year development process backed by a lifetime of dedication to study.
He is a firm believer that diet and lifestyle play a strong role in how skin ages. Dr. Malek became increasingly intrigued by the growing scientific evidence that probiotics, when ingested, are beneficial to our bodies. He then made an important cognitive leap if probiotics are good for us internally they are likely to do the same in probiotic-derived topical products to help combat the skin's aging process, a great deal of which is caused by the environment and lifestyle.
Dr. Malek has teamed with the scientists who manufacture the probiotic-derivative Bonicel™ and after five years in the making, created skincare formulations that are clinically, doctor and patient tested for optimum results.
Introducing Dr. Malek's NutriPlex Beauty™. An innovative new skin care line harnessing the power of a science-backed, probiotic-derived personal care ingredient; Bonicel™. This breakthrough ingredient has 44 global patents in skincare!
The innovative ingredient in Dr. Malek's skincare line is produced naturally via a special proprietary fermentation process and is science-backed, probiotic-derived personal care ingredient.
Based on the strong belief that probiotics are good for our overall health, Dr. Malek's research chemists set out to delve into the exploration of topical probiotics that would be beneficial to skin as well. His study has shown that topical use of probiotic derivatives will help skin look younger and healthier-looking.
Having tested the products both clinically and on his patients, Dr. Malek is very pleased to bring this new approach to skincare to the HSN consumers.
Utilizing the newest science; probiotics - the newest wave of skincare!
Pro-Vitalizing
Serum
Reduces roughness and dryness
Helps firm skin for a youthful appearance
Provides moisture
Improves radiance and clarity
Reduces the appearance of crow's feet
Provides benefits of probiotic derivatives
Pro-Nourish Day Crème
Increases firmness
decreases the appearance of wrinkles
Increases smoothness and luminosity
Developed with probiotics, viamin E and amino acids
Pro-Dermal Gentle Cleanser
Enhances skin hydration by forming an invisible, water soluble film that helps bind moisture
Developed with probiotics, vitamin E and sodium hyaluronate
Pro-Recovery
Night Cream
This rich moisturizing night crème is formulated with a patented polymer system designed to enhance skin hydration by forming an invisible, water soluble film that helps 'bind' moisture.  Our skin needs hydration because moisture is constantly evaporating off the skin making it appear dry and older looking emphasizing line and wrinkles. 
Dr. Malek's formula with all of the benefits of the patented probiotic derivatives contains vitamin E, Sodium Hyaluronate and a sugar blend to help keep moisture on your skin resulting in skin that is more supple and youthful in appearance. 
Dr. Malek's Pro-Recovery Night Crème is Paraben Free and Sulfate Free.
Pro-Lift Eye Cream
It's an eye-lift in a bottle!
With Dr. Malek Eye Cream, the dark & puffy eye treatment, bags are banished and puffiness is prevented. Dark circles are caused when blood gathers under the eyes and it begins to oxidize. The formula decreases capillary permeability, improves lymphatic circulation, and improves firmness and elasticity. Puffy eyes are caused by an accumulation of water in the under-eye area. Dr. Malek contains ingredients that significantly reduce bags and puffiness. Dr. Malek contains a light diffusing pigment that creates optical effects with invisible particles that reflect and emit visible light from wrinkles and other concerned areas, making them temporarily disappear. Dr. Malek is an effective alternative to Vitamin C and Retinol for erasing wrinkles. It diminishes the appearance of wrinkles by helping to restore the dermal matrix; it combats aging and smoothens out wrinkles. Dr. Malek instantly modifies the appearance of wrinkles, large pores, scars, and discoloration
Directions: Use Dr. Malek  Dark & Puffy Eye Treatment on the under-eye area. Apply once in the morning and before retiring every night.
Dr. Malek Probiotic Cleanser is a crucial step in replenishing and maintaining the hydration and nourishment levels of your skin. Since the body can't make them itself, it's important to get them from outside sources such as our exclusive Mr. Malek Probiotic Complex.
Our cleanser protects the skin's acid mantle and also rebuilds and maintains the skin's lipid (oil) barrier due to external influences.
What is it: One-Step revolutionary Probiotic Cleanser is a beautiful blend of plant-based ingredientsm 5 of the leading Probiotic ingredients, mild glucoside surfactant, and plant oils. It melts away even waterproof makeup, leaving skin feeling fresh.
Who is it for: All skin types. Non-irritating. Non-sensitizing. 
Why is it different: It does not contain harsh soaps nor mineral oil. No double cleansing is required.    
iS Clinical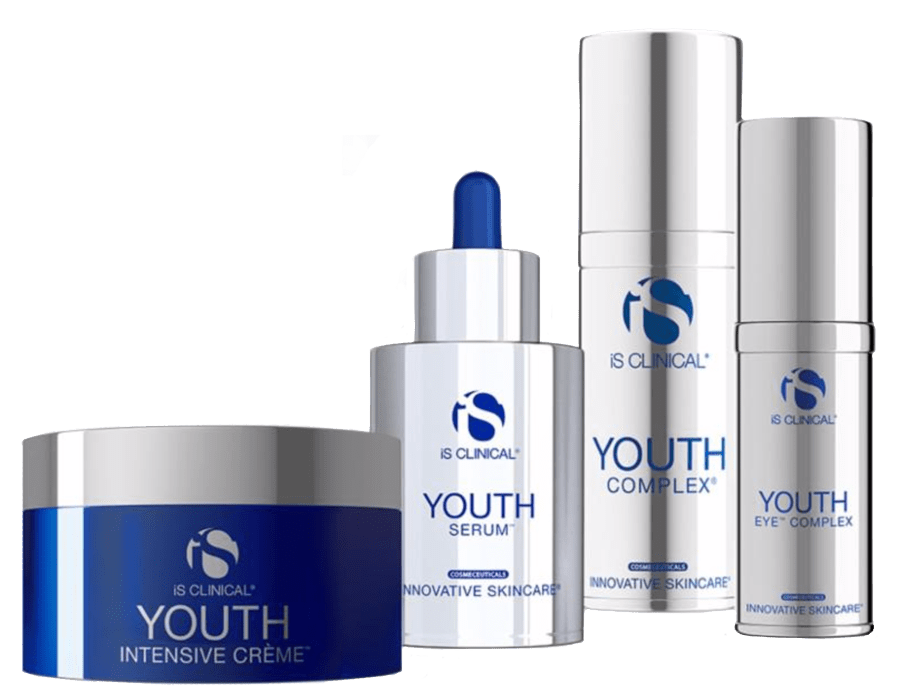 Cleansing Complex
Deep cleanses without drying 
Minimises pore size
Helps control breakouts
Smoothes and softens
Excellent for shaving
Active Serum
Anti-Aging, Anti-Acneic, Brightening
Reduces the appearance of fine lines and wrinkles
Diminishes the appearance of hyperpigmentation
Reduces breakouts and pore size
Smoothes and softens skin texture 
Youth Complex
Rapid Wrinkle Reduction
Firms and tightens skin
Smoothes and softens skin texture
Provides antioxidant protection
Clinically proven to stimulate the production of collagen and elastin
Youth Eye Complex
Rapidly smoothes and hydrates, reduces puffiness and dark circles
Rapidly reduces eye area wrinkles and crows feet
Reduces puffiness and dark circles
Improves skin hydration, firmness and elasticity
Strengthens and thickens the delicate skin around the eye
Youth Intensive Cream
Anti-Aging
Rapidly plumps and smoothes fine lines and wrinkles
Stimulates the production of collagen to dramatically decrease the appearance of lines and wrinkles over time.
Delivers essential nutrients for optimal skin health
Super Serum Advance
Anti-Aging, Super Antioxidant, Brightening
Safely brightens skin and helps correct uneven pigmentation
Reduces the appearance of fine lines and wrinkles
Effectively improves the look of scar tissue and fine line stretch marks
Provides UV photoprotection.
Hydra-Cool
Hydrating and Soothing
Provides intense hydration
Cools, Calms and soothes dry, irritated skin
Helps reduce mild breakouts
Helps reduce redness and irritation including sunburn
Skin Ceuticals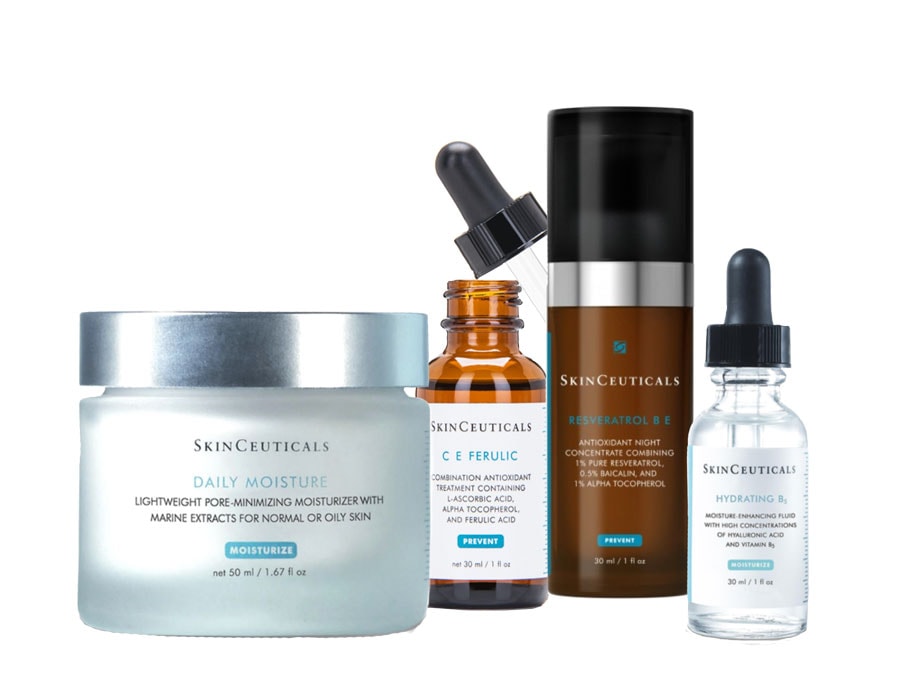 C E Ferulic
Antioxidant
Reduces the appearance of wrinkles
Brightens skin
Once absorbed, remains effective for 72 hours.  
Resveratrol BE
Repairs and Prevents accumulated damage
Antioxidant defense
Enhances skin's radiance and elasticity
A.G.E. Eye Complex
Dark Circle Corrector
Improves the appearance of dark circles
Reduces the appearance of wrinkles and crow's feet
Restores comfort to dry, aging skin
A.G.E. Interrupter
Anti-Aging
Improves the appearance of thinning skin
Restores comfort to dry, aging skin.
Helps protect the skin's barrier
Triple Lipid Restore 2:4:2
Corrective Moisturizer
Hydrates and Restores essential skin lipids
Improves the look of skin fullness
Advanced Pigment Corrector
Reduces Stubborn Discoloration
Improves luminosity and skin tone
Paraban free and fragrance free
Blemish + Age Defense
For Acne Prone Aging Skin
Minimizes excess acne causing bacteria
Unclogs pores
Diminishes surface indicators of age
Hydrating B5 Gel
Moisture Enhancing, Gel Enriched
Contains hyaluronic acid and B5 which helps replenish nutrients
Provides supple and smooth results
Daily Moisture
Lightweight Pore Minimizing Moisturizer
Nourishes and Hydrates Skin
Vivier Skin

Daily Age-Defying Moisturizer
Contains rosemary extract, allantoin, squalene, vitamin E and vitamin C
Diminishes the appearance of wrinkles 
Provides an instant glow
Hypoallergenic
C E Peptides
Skin Balance
Helps reduce further signs of aging
Vitamin C Scrub
Exfoliate
Helps revitalize skin tone
Gently exfoliates dead skin cells and rough patches
Refines skin texture
Grenzcine Serum
Beneficial for those who have think skin
Improves skin tone, texture and elasticity
Hypoallergenic