Liposuction
Scottsdale & Phoenix
Now a household name, liposuction has evolved over the last several years due to advanced technology. Dr. Malek performs some of the best liposuction Scottsdale has to offer. Dr. Malek is a board-certified plastic surgeon in Scottsdale who considers liposuction a medium of artistic expression to help each patient attain complete satisfaction with his or her appearance.
Liposuction with Dr. Malek
What is Liposuction?
Liposuction is a method of removing fat from stubborn deposits beneath the skin to help reshape and contour your figure. A liposuction procedure may also be used to de-bulk certain areas, such as the abdomen and thighs, which will "jump-start" your ongoing exercise program and help you meet your fitness goals. For those patients wanting smoother lines and more appealing curves, liposuction can be extremely rewarding.
The Liposuction Procedure
Liposuction is a surgical technique that improves the body's contour by removing excess fat from deposits located between the skin and muscle. Liposuction involves the use of a small stainless steel tube, called a cannula. The cannula is connected to a powerful suction pump and inserted into the fat through small incisions in the skin. Fat removal is accomplished as the suction cannula creates tiny tunnels through the fatty layers. After surgery, these tiny tunnels collapse and thus result in an improved body contour.
Current Liposuction Options
All modern-day liposuction techniques use a tumescent technique, which refers to an injection into the fat layer of a combination of sterile saline, numbing medication (lidocaine) and epinephrine that controls bleeding and lessen the toxicity of lidocaine.
Our Phoenix liposuction treatment is commonly used to treat areas including:
Upper abdomen
Lower abdomen
Flanks (commonly called love handles)
Hips
Inner thighs and / or outer thighs
Back: lower, mid and / or upper
Male Chest
Arms
Chin
Neck
Liposuction Candidates
While liposuction is not a treatment for obesity or a weight loss solution, it is a valuable tool for improving specific trouble areas of the body which have stubborn fatty deposits. Liposuction is ideal for people who are in good, healthy shape and are struggling with a specific area of their body which, for whatever reasons, has been resistant to change through diet and exercise alone.
Liposuction candidates are preferably:
Adults within 30% of their ideal weight
Who have firm, elastic skin
Who have good muscle tone
No life-threatening illness or medical conditions
Liposuction Expectations
It is also important that the liposuction patients have realistic expectations regarding the outcome of surgery. In order to maintain the results of liposuction, you need to follow healthy lifestyle habits.
Dr. Malek will help you decide if you are a candidate for liposuction and will also recommend healthy lifestyle habits post-surgery. As Dr. Malek is one of the best providers of liposuction Scottsdale has to offer, Dr. Malek is the clear choice for patients looking for this procedure.
Liposuction Before & After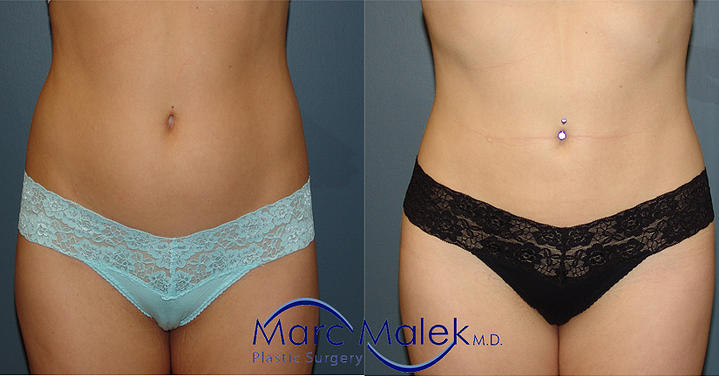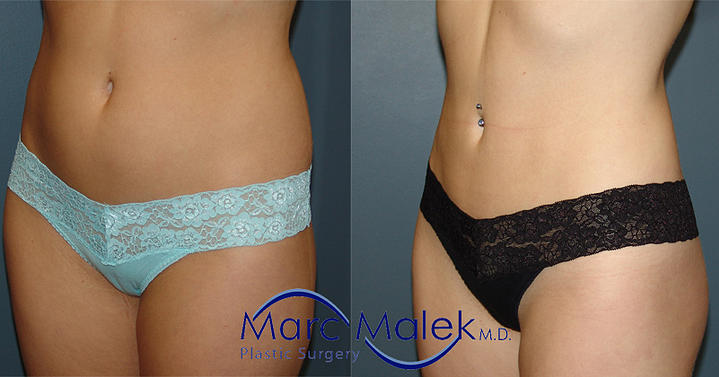 Eliminating Stubborn Fat
No matter how carefully you watch your diet or how religiously you exercise, there are certain body areas that naturally retain fat. In women, fatty deposits tend to collect on the tummy, buttocks, thighs, flanks and upper arms. In men, the fat tends to collect on the tummy area. It can be depressing when you work and work and finally reach your weight goal and still see those fatty deposits.
The body is built to store fat – back in time, these fat deposits were a reserve, meant to protect the body in rough times. Thankfully, through modern surgical and non-surgical techniques, we can now improve on nature. We have no need to store fat in these areas – and it can be eliminated with liposuction.
Modern Liposuction Technology
Our liposuction in Phoenix is a safe and effective treatment for removing fat deposits, and has been used around the world for decades. Advances in technology have led to better, safer lipo systems to remove unwanted fat. Are you living with fat deposits that make you feel less than attractive? As your body has a limited number of fat cells, once the fat is removed, these cells are gone forever.
Liposuction can be an effective way to improve your body contour and make your body the piece of art you envision. Let us help you achieve the slim, trim profile you want. If liposuction is the procedure that will give you the most dramatic changes, it will be one aspect of your custom treatment plan.
Dr. Malek Discusses Liposuction
Recovery After Liposuction Treatment
Many people are interested in liposuction, but have questions about recovery time. After the procedure is complete, you may feel some minor pain, easily managed with over-the-counter pain medication. It will take a few days for you to notice the weight change, as your body has been injected with fluid as part of the procedure.
Liposuction Recovery Tips
It is advised that after surgery you eat light, bland food only, and drink plenty of liquids to rehydrate and rebalance your fluids.
Dr. Malek will suggest a compression garment to cover treatment areas once your procedure is completed. To help to control swelling and compress the skin to your new body contours.
Your slimmer, trimmer body will be revealed as the weeks pass, with the final changes being apparent at about three to four months. What could be more rewarding than looking in the mirror and seeing a fitter looking, trimmer body? If you are considering liposuction in Phoenix, Dr. Malek should be your top choice.
Liposuction Recovery Time Line
You will experience some swelling which diminishes quickly – far faster than earlier generations of lipo treatment.
You should see an impressive difference in three to four days, but you have not yet reached the full effect. Our Scottsdale liposuction patients can typically expect to recover quickly from their procedure. There will inevitably be some bruising and inflammation in the treated areas.
In addition, some patients may have small, temporary drains placed in existing incisions beneath the skin to remove any excess blood or fluid.
During recovery, most patients are able to stay relatively active. Within just a few days post-op, patients can return to their daily routine.
Strenuous activities will have to be postponed for a few weeks and patients are urged to stay out of the sun until the bruising fades. It may take several months for the swelling to fully dissipate and for complete results to be visible.
Liposuction FAQs
How much weight can I lose with liposuction?
It's very important that each patient understands that liposuction is not a weight-loss procedure. It is meant to be used as a method of body sculpting and contouring to remove stubborn fat that doesn't respond to dieting or exercise. Patients undergoing liposuction should be at or close to their ideal weight already.
Should I try to lose weight prior to the procedure?
Weight fluctuations are not conducive to healthy liposuction results, so it's best if you avoid drastic dieting prior to your procedure. Try to just maintain a stable weight and allow the liposuction procedure to slim and sculpt your curves.
Does liposuction hurt?
A local anesthetic is used to numb the skin before the incision is made and the cannula is inserted. Once the anesthetic has taken effect, it is unlikely that you will experience any pain. After your procedure, Dr. Malek can provide prescription medications to resolve any discomfort.