Dr. Malek believes in making you have a more youthful, natural appearance, one that would lead people to believe that you are aging beautifully, not that you have had plastic surgery. You want to choose one of the highest rated surgeons to perform your facelift Scottsdale has to offer. For this reason, double board-certified plastic surgeon, Dr. Malek is the clear choice when picking a cosmetic surgeon.
Both men and women who wish to achieve a younger, fresher looking face can benefit from becoming Scottsdale facelift surgery patients. Face lifts can help reverse the common signs of aging such as wrinkles, creases, fine lines and sagging skin.
Facelift Before & After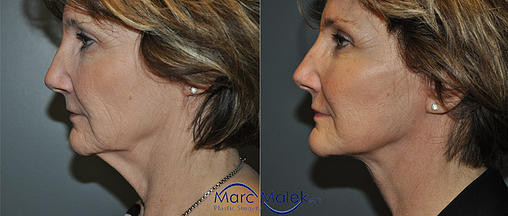 Facelift Surgery with Dr. Malek
What is a Facelift?
A face lift, sometimes referred to as a Rhytidectomy, is used to reduce the excess skin on your face. You may be a candidate for this procedure if you have the appearance of jowls and deep creases between the base of the nose and the corners of the mouth. Other signs of needing this procedure are if you think you have a tired facial appearance, or if you believe you have developed facial and neck wrinkles.
The face lift procedure is a group of procedures designed to readjust the skin, fatty tissue and muscles of the face to create a smoother, tighter, more youthful appearance. This procedure will improve the skin around your eyes, on your forehead, and cheeks.
What does a Facelift entail?
During your consultation in Scottsdale, Dr. Malek will evaluate your anatomical features and outline a thoughtful plan to restore natural support and contours to your cheeks, jawline and neck. He utilizes a host of surgical interventions to address different patient's needs, always choosing the least invasive yet most effective procedure to restore a rested and youthful appearance. Some non-invasive techniques could be utilized in some patients thereby decreasing expense and down-time. You will be able to thoroughly review all options with Dr. Malek and his staff.
Why Get a Facelift?
As the years pass, the skin begins to lose its natural collagen, the substance that provides elasticity and structure. Lines begin to appear around the eyes, from nose to mouth, and cheeks begin to sag. The firm, clean line of the jaw has sagging skin; the wrinkles and lines make the face appear old and tired.
Many people find these signs of age to be very distressing – and for good reason. An aging face appears less vital, less alive, and in many cases, less attractive or appealing, with a negative impact on feelings of self-confidence. Dr. Malek's main goal is to help his Scottsdale and Phoenix patients overcome the signs of aging. With Dr. Malek's beautiful results and the extra care and attention he takes with every patient makes him one of the top destinations for a facelift in Phoenix.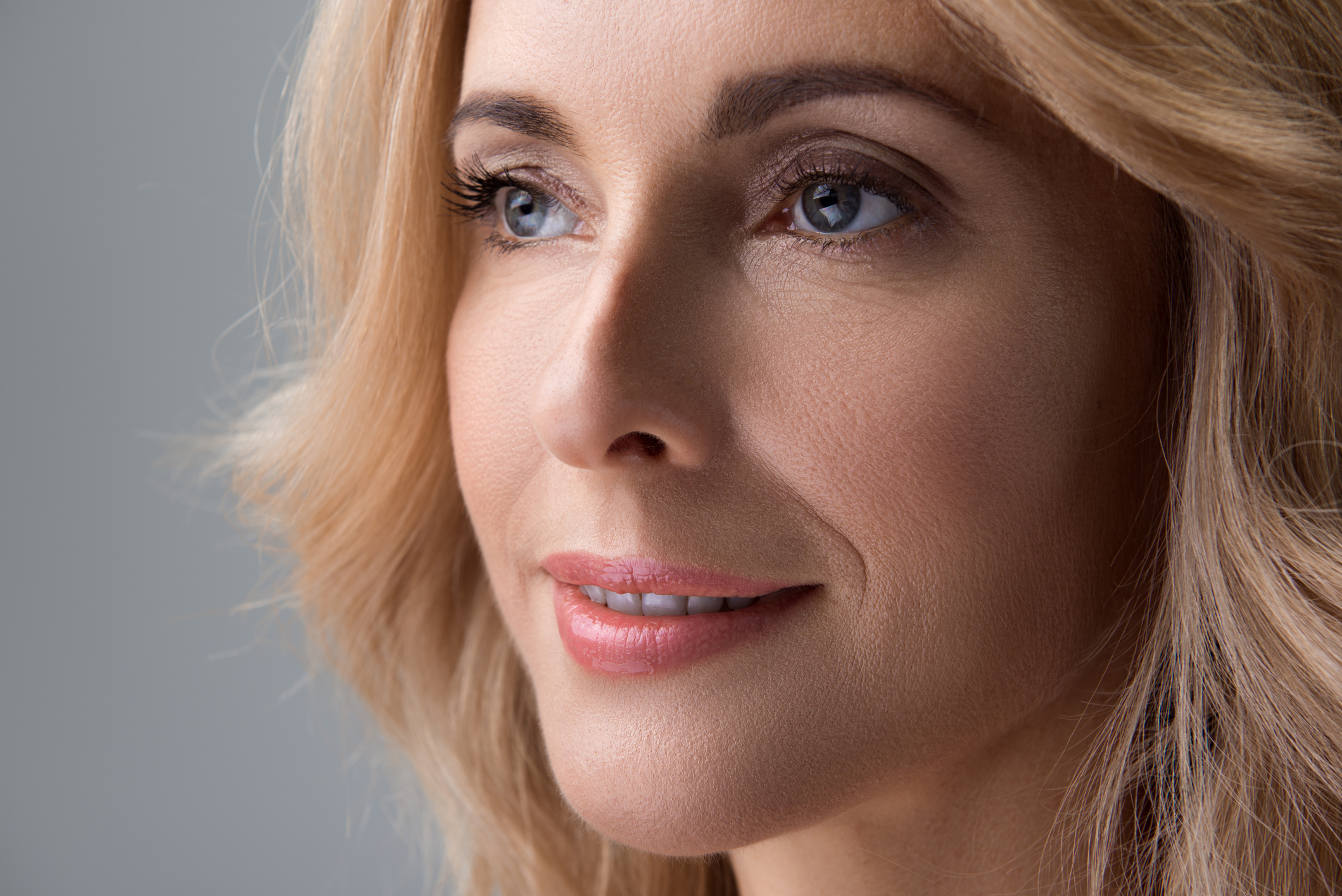 Natural, Youthful & Fresh: Facelift Phoenix & Scottsdale
A facelift can restore the look of youth, eliminate lines and wrinkles, and restore a firm, youthful line to the jaw. It requires a skilled, artistic approach to achieve results that appear natural and youthful. Dr. Marc Malek has garnered a reputation for his artistry in facial plastic surgery, uses the most cutting-edge procedures and techniques, and is known for achieving impressive results. For this reason, Dr. Malek is double board-certified and is known by many as a leader in the facelift Scottsdale field.
For a facelift that leaves you looking rested, refreshed, and shaves years off your facial appearance, you want a surgeon who has an eye for beauty, harmony, and balance, look no further than Dr. Marc Malek.
The Facelift Procedure
Each person has unique facial issues, and the treatment plan must be customized. No cookie cutter approach ever achieved stunning results. The first step is a full evaluation of your facial skin, tissue, and the quality and laxity of the muscles beneath the skin layer. Some patients may require only a "mini facelift" while others may need a standard facelift. Your custom facelift will typically involve the following steps:
The patient is put under with general anesthetic.
The facial skin is carefully separated from the connective tissue and muscle structure beneath.
Deep facial tissue is repositioned for a firmer contour.
Jowls are removed to create a firmer, slimmer foundation upon which to place the facial skin.
Excess skin is removed.
Remaining skin is replaced over the restored facial tissue, for a smoother, fresher appearance – without excess tightness.
Facelift Options
in Scottsdale and Phoenix
When you have become accustomed to looking your best, the aging process can be difficult. As you age, your skin loses the ability to produce collagen and elastin the way it did in your youth, causing it to begin to sag and droop and deep lines and wrinkles to form. Due to greater exposure to the sun, your face is one of the first places to show the signs of aging. These signs detract from your once-youthful glow, often leaving your facial skin looking dull and lifeless.
Liposuction may be recommended to be used in conjunction with the face lift, as needed. In addition, a neck lift procedure is often opted for to finish the overall youthful restoration in the most natural-looking way.
Types of Facelifts
Restore the Glow of Youth
Thankfully, you don't have to live with a facial skin that doesn't reflect your inner vibrance. A facelift, also referred to as a rhytidectomy, can dramatically reverse the visible signs of aging by smoothing facial skin, and lifting your features to a more youthful position – that looks like you. A facelift can restore volume and fullness, remove deep lines and wrinkles, and restore the contours of your neck and jawline. There are many options for men and women. It is helpful to know the options for the various facelift procedures, so you can make an informed decision about which option is best suited for your needs.
Mini Facelift
A mini facelift in Phoenix focuses on tightening the skin around the jawline, removing unsightly jowls and smoothing the skin of the lower face in the process. During this procedure, an incision is made around the ears, and the skin and underlying muscles are pulled upward and out in order to restore the contours of the lower face. Excess tissue will be removed, and the incision will be closed with sutures.
Mid Facelift
A mid facelift concentrates its restoration on the skin of the mid face just beneath the eyes from the cheekbones to the jawline. It uses incisions similar to those of a mini facelift and skin is pulled in an outward motion, smoothing the nasolabial folds or laugh lines. During a mid facelift, fat may be redistributed around the mid face to restore fullness to the cheeks and bring back fresh, youthful contours of your face.
Brow Lift
A brow lift, or forehead lift, smooths the skin of the upper face while rejuvenating the appearance of your eyes. With a brow lift, incisions are made at your hairline. The skin and muscles of the upper face will then be smoothed and tightened, creating a subtle, well-rested, refreshed look.
Full Facelift
If you have more extensive needs in facial rejuvenation, a full facelift combines the effect of all of the above procedures. This redefines the youthful contours of your face, giving it rested, natural look. Deep lines and wrinkles will be smoothed, while excess skin and tissue are removed.
If you are interested in discussing your options for a Facelift, Dr. Marc Malek would be happy to meet with you and discuss your personal goals for facial rejuvenation.
Facelift Recovery
We require all our Scottsdale and Phoenix patients who have a facelift to stay one night at the Surgery Recovery Center. You will go home with your head and neck wrapped in dressings, which are usually removed a few days after the surgery. There is minimal discomfort with this procedure which is controlled with pain medications. Aesthetically, your recovery will be longer than your discomfort. The discomfort usually lasts 2-3 days.
Your surgical results are evident in 2-3 weeks with bruising and swelling disappearing by the third week. Bruising and swelling is a common side effect to a facelift procedure. Most patients are back to work one to two weeks after a facelift, and fully recovered by the third week. The results of your facelift in Phoenix with our double board-certified plastic surgeon will shed years off of your appearance and last for nearly a decade before any major surgery should be done again.