Rhinoplasty
Scottsdale & Phoenix, AZ
What is Rhinoplasty?
Rhinoplasty is surgery of the nose to correct asymmetry, remove a hump from the bridge, or reshape the nasal tip. Knowing that the nose is a key feature to a person's face, Scottsdale plastic surgeon, Dr. Malek, believes that artistry is most crucial in rhinoplasty.
As a provider of rhinoplasty in Scottsdale and Phoenix, Dr. Malek has seen rhinoplasty patients only benefit from this level of focus. A nose should fit its surrounding facial structure. By approaching each nose individually and sculpting it through advanced techniques, our professional staff can reach a natural result.
Rhinoplasty with Dr. Malek
Nasal Anatomy Evaluation
Your nasal anatomy will be examined and illustrated during your consultation at our Scottsdale, AZ, clinic to identify the changes that can be made. The feedback that you provide regarding what you want will then be carefully applied in devising the appropriate surgical plan. This can affect where the incisions are made, as well as how the nose will be sculpted.
Dr. Malek's highest priority from start to finish is your satisfaction with the final result of your rhinoplasty.
Importance of Rhinoplasty
The nose is the central focal point of the face and can make a huge difference in creating disharmony or disproportion amongst the rest of the facial features. For these aesthetic reasons rhinoplasty is often performed in order to create a more ideal appearance.
There are also, however, functional reasons for rhinoplasty. Men and women who have a difficult time breathing through the nose due to blockages like deviated septums may require rhinoplasty. In many cases it may be a combination of aesthetic and functional reasons that bring people in to see Dr. Marc Malek to bring improvement to their nose.
Before & After Rhinoplasty in Phoenix & Scottsdale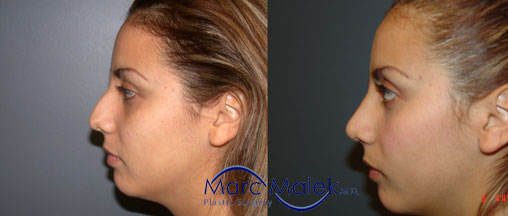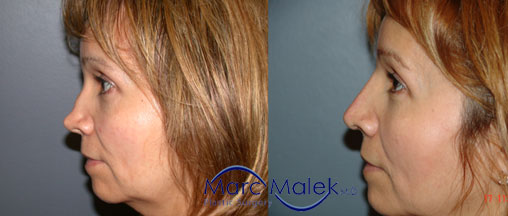 A Nose Job: The Decision
In many cases, the people who come to our clinic for our rhinoplasty in Pheonix have been wanting to change the appearance of the nose for years, and are finally taking steps. Other young patients are brought by their parents – genetics has given them a nose that is too large for the face, leaving them feeling embarrassed and shy about appearance. No matter what your story is, we would like to meet with you and discuss the possibilities. We use digital imaging to show you how your newly-shaped nose will appear when healed. You may be unhappy with one or more of the following:
Nose too large
Lumps on bridge of nose
Large, unattractive nostrils
Bulge on end of nose
Drooping nose
Long nose
Pointed nose
Unsymmetrical nose
Breathing problems
A Perfect Nose: Facial Balance
A nose job can lead to better facial balance and attraction. Every person has a unique facial structure, and a rhinoplasty, to create the right look, must be customized to suit the individual.
Choose the Right Rhinoplasty Surgeon
Dr. Malek focuses on nose surgery that will match the physiology of the person, and will enhance the natural beauty of the face, while looking natural. Any facial surgery should be performed by a true professional in the field. Dr. Malek is double board certified in both plastic surgery and cosmetic surgery, as well as having a unique artistry that has made him a leader in his field. He is frequently considered to provide patients with some of the best rhinoplasty results in Scottsdale and Phoenix.
Are you unhappy with the appearance of your nose? Whether you feel it is too large, droopy, lumpy, or uneven, it is important that your surgery is performed by a plastic surgeon who truly understands facial balance and harmony.
Facial Balance: Rhinoplasty
Your face should appear balanced, with all features in harmony, blending together for an overall attractive appeal. Changing the size, shape, or appearance of the nose can make a dramatic difference in facial appearance.
Our goal is to create the look that is most appealing for the individual person. Our skills and artistry in this procedure has brought us many patients, and many personal referrals from happy patients. Talk to us about what you want to achieve. We work closely with each patient, and we are committed to achieving outstanding outcomes, in every case.
Rhinoplasty surgery may be done on its own or in conjunction with other facial procedures such as face lift or chin or cheek implants to ensure a proper balance of features. To learn more about Rhinoplasty or any other procedure, contact our office to schedule your confidential consultation with Dr. Malek. We look forward to helping you achieve your aesthetic and functional goals.
Rhinoplasty Recovery
Recovery from a rhinoplasty generally takes 10-14 days depending on your natural ability to heal. There will be a sizable amount of swelling and bruising during these first few days, and you will be wearing a splint and some padding. It is also likely that you will have some difficulty breathing through your nose, this is normal.
For more information on rhinoplasty, Scottsdale residents are encouraged to contact our office and schedule a consultation with Dr. Marc Malek. Meeting with Dr. Malek will allow patients to learn more about the procedure and ask questions. Dr. Malek's intent is for you to feel comfortable and confident with the procedure. He is the clear choice if you are considering a rhinoplasty in Phoenix and Scottsdale.
Rhinoplasty FAQs
Is rhinoplasty covered by insurance?
Insurance carriers do not cover procedures done purely for cosmetic purposes. With nose surgery, a portion or all of the costs may be covered if the procedure is performed for medical or reconstructive purposes. It's always worth checking with your carrier to see what is possible. We are happy to assist you in any way that you need in regards to financing.
Is rhinoplasty painful?
While pictures of rhinoplasty recovery may look daunting, the recovery itself as experienced by each patient is manageable and mostly stress-free. Dr. Malek will ensure you go home with pain medications that can help ease any discomfort after surgery. Swelling, bruising, tenderness, a mild headache, and temporary numbness are all side effects to be expected, but they will be at their worst for only the first few days after surgery. Within one week, these symptoms will die down. During surgery, you'll be asleep under general anesthesia, so you will not feel any pain or be aware of any of the surgeon's movements.
Is there a non-surgical option for rhinoplasty?
A liquid rhinoplasty, performed using dermal fillers, can correct small contour imperfections in the nose, such as asymmetry and depressions. However, for those who require more in-depth structural changes to the bridge, tip, and nostril, only a surgical approach will yield dramatic, long-lasting results. Many patients "try on" certain changes to their nose by using dermal fillers and then elect to undergo rhinoplasty down the line once they feel more comfortable making an important change.