A neck lift, technically called a cervicoplasty, is a surgical procedure performed to reduce the appearance of loose, sagging skin below the chin, around the jawline, and on the neck to create a more refined, structured and youthful appearance.
What is a neck lift or cervicoplasty?
A cervicoplasty, or neck lift, is a procedure that restores a refined chin and jawline by removing excess fat and loose skin below the chin and on the neck sometimes referred to as a "turkey wattle" and "double chin." It is often performed with the addition of a platysmaplasty, which tightens the underlying neck muscles for a smoother neck structure. Using small, carefully placed incisions and liposuction, a neck lift is a detailed and involved surgical procedure that delivers long-lasting, dramatic results – and takes years off your appearance.
What can a neck lift do for me?
A neck lift addresses the signs of aging skin and excess tissue and fat. This procedure is an age-defying surgery, and does the following:
Restores a youthful, defined jawline
Removes excess under-chin fat, skin, and tissue
Tightens loose neck muscles
Creates a smooth, refined neck appearance
Smooths away vertical neck bands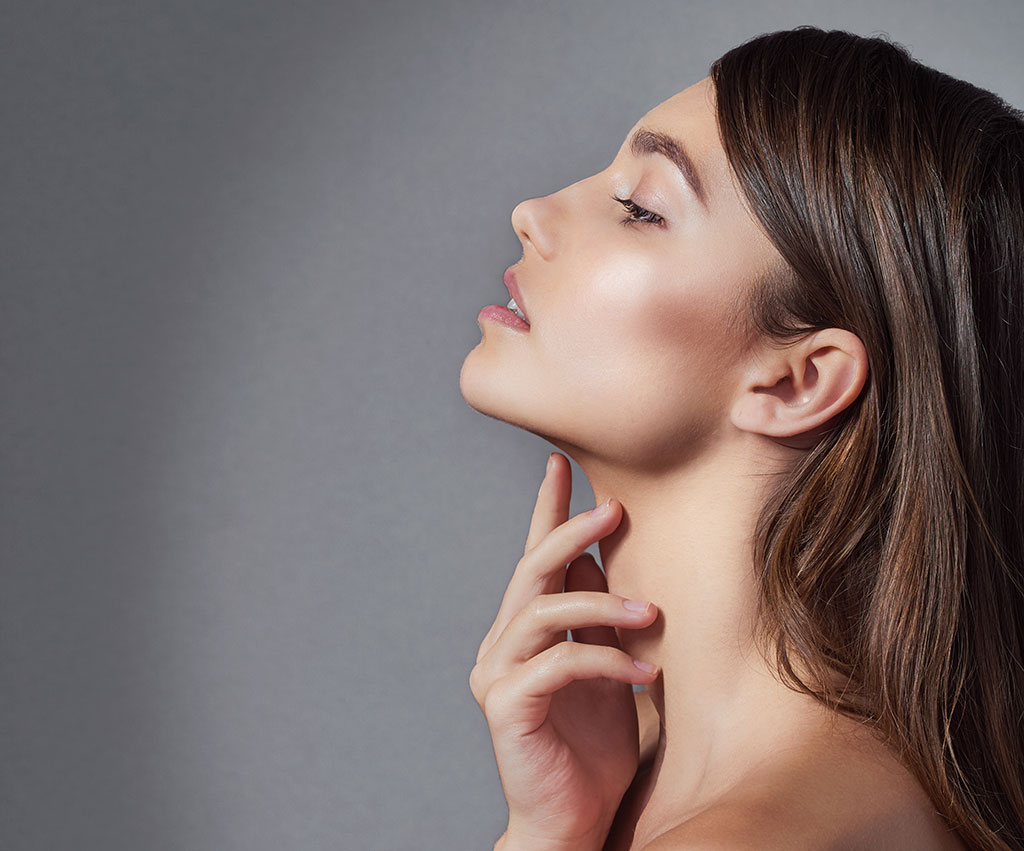 What can I expect from a neck lift?
Before your neck lift in Scottsdale, you will meet with Dr. Malek in a private consultation to discuss your desired results and what surgical technique will achieve your vision. He will be able to advise you if you only need the cervicoplasty alone or the addition of the platysmaplasty based on the condition of your neck muscle tone, and the quantity of fat to be removed. He will also be able to advise you on whether local or general anesthesia is appropriate for your personalized procedure.
At the start of your procedure, our anesthesiologist will administer a local or general anesthesia to prepare you for the procedure. In most cases, two different incisions are needed. The incision sites are behind the ears and beneath the chin. If there is also fat to be removed, Dr. Malek will use gentle liposuction to remove the fat cells with a cannula (hollow needle) and a suction device. Once the excess skin and fat has been removed, the underlying muscles are tightened. After the procedure is completed, our surgeon will apply sutures to close the incisions and then securely bandage the treated area.
What is recovery like after a neck lift?
After a neck lift, most patients can return home within several hours, based on the type of anesthesia and the extent of the procedure. Most patients will need to wear compression bandages for a week or more to keep swelling down and sutures may be removed at that time. Our plastic surgeon will provide prescriptions for the appropriate antibiotics and painkillers as well as detailed aftercare to ensure you have a successful and rapid recovery.
You may experience some pain and bruising that will dissipate after the first few days. Swelling can last for a week or more and most patients are allowed to return to work after one or two weeks, though some may take four weeks. While you may be able to return to the office after a week, you will need to adhere to a set of strict guidelines such as baths instead of showers, avoiding strenuous activity, and avoiding the sun for several weeks. Your doctor will outline the best ways to take care of your newly refined and tighten neck and jawline for the best results and easy recovery.
Am I a good candidate for a neck lift?
If you are tired of seeing excess sagging skin and fat under your chin, along the jaw, and on the neck, you may be a good candidate for a neck lift. Many patients are mature in age and are experiencing the unfortunate impact of time and gravity on the neck. Others may have recently lost a significant amount of weight, which left loose, sagging skin on the neck. This can cause a lack of self-esteem that can play havoc on your confidence in your body image. If either of these situations describe you, a neck lift could help you look years younger, refreshed, and rejuvenated.
The best candidates for a neck lift are non-smokers, in good health, and are fully informed about the procedure itself, the recovery, and what to expect.
Why should I choose Dr. Marc Malek for my neck lift?
If you are considering a neck lift in Scottsdale or Phoenix areas, Dr. Marc Malek should be at the top of your list. He is regarded as being among the finest board-certified plastic surgeons practicing in the Phoenix and Scottsdale areas. Dr. Malek is board certified by the American Board of Plastic Surgeons and is a prominent member of the American Society of Plastic Surgeons, the Arizona Medical Association and the American Medical Association. Dr. Malek brings his artistic eye and impressive surgical skills to every procedure and has dedicated professional life to the art of plastic surgery.
Neck lift/cervicoplasty FAQs
When will I see results to my neck lift?
Initial results will be visible immediately though swelling will keep full results from appearing until a couple of months. Your results will improve over time with the full results expected in about six to seven months after your neck lift procedure.
How long do the results of a neck lift last?
While a cervicoplasty, or neck lift, is a long-term solution the excess sagging skin beneath the chin and jawline, unfortunately, the aging process cannot be halted! A neck lift can take decades off your appearance and will keep you looking younger for many years than if you had not undergone the procedure. While you may need a touchup ten to fifteen years down the line, with proper skincare, a healthy lifestyle, and limited sun exposure, you can expect your results to last a decade or more. Imagine a sculpted, youthful neck and jawline, and appearing years younger – our patients are thrilled with the results.
Practice Policy Update Regarding COVID-19
COVID-19 TESTING
I am very pleased to inform you that we have been able to secure antibody testing for our patients in order to allow for elective procedures in compliance with AZ Dept of Health and Governor Ducey's Executive order. We hope everyone understands the test is mandatory per the order.
Antibody tests are extremely scarce and range in cost from $ 75-400. Still, the mass majority are not FDA approved as of yet so we are using local experience by medical practices handling COVID-19 to ascertain the quality of the test we have chosen for our patients.
The test examines two Antibodies.
IgM-indicates a recent infection within 30 days.
IgG indicates conversion from a distant infection meaning you potentially have immunity.
Test Results:
If you test positive for IgM then your surgery will be delayed at least 30 days until clear by a retest.
Although the practice would like to provide these tests at no charge, due to the elective nature of our procedures we will not receive any from the Health Department or any government agency. I encourage all of our patients who are able to seek their own testing either at free community locations or through their practitioner if covered by insurance. Otherwise, we can provide an antibody test to all preop patients at our own cost of purchase ($75). Some may require a second test depending on the initial result. Once again it is a mandate per the health dept to obtain testing prior to any elective procedure at any and all surgical facilities in Arizona.
I and the entire staff at Preferred Plastic Surgery will continue to be devoted to your safety as our utmost priority.
Please review our practice protocol below for our reopening. I believe it is beyond comprehensive and likely to set the new standard of patient flow and care during these challenging times. It will reassure any and all of your concerns regarding your safety and reduction of all unnecessary exposure during your time in our facility.
SURGERY CENTER PROTOCOL
Scottsdale outpatient surgery
Peri-Operative Standardization and Maintenance for COVID-19 Safety Policy and Procedural Protocols.
FACILITY
The facility is a single Operative suite with one pre-operative bay and 2 PACU bays.
the facility will be used 2 days a week
only one procedure is performed at a time and there will be strict limitation of traffic to anyone except the patient and staff directly in contact and actively managing that patient
no known or Covid-19 positively tested patients will be treated at the facility
staff at the facility will be COVID -19 antibody tested on a routine basis as well as closely monitored for any signs of symptoms through a COVID-19 specific questionnaire
daily temperature checks will be performed on all staff and patients prior to entry into the facility
PPE supplies are available and a greater than 14 day supply will be in stock at all times
the required inventory list is in place for all PPE and is maintained daily for reorders and necessary fulfillment
this supply will not be reliant upon county or state supplies
all staff will wear PPE at all times while in the facility
PPE is changed between treating different patients
SCREENING PROTOCOLS
Covid-19 Questionnaire involving all the following are asked of all patients staff and others prior to all visits whether preop, operative or post-op.
Symptoms of fever, cough, fatigue, shortness of breath or tightens when breathing, gastrointestinal upset or diarrhea, loss of sense of taste or smell.
Exposure to other household members or coworkers who are sick or report any of the above symptoms
the questionnaire also applied to staff
PRIORITIZATION OF SURGERY
surgeries are performed in the order of priority as in regard to pain discomfort, interference with routine lifestyle, or where delay leads to the need of potentially more complicated procedures
PRE-OPERATIVE PROTOCOLS
In addition to necessary and appropriate pre-op medical clearance additional COVID-19 identification and prevention requirements are introduced to every patient prior to being accepted for surgery.
Questionnaire involving all the following are performed at each and all visits whether preop, operative, or post-op.
Symptoms of fever, cough, fatigue, shortness of breath or tightens when breathing, gastrointestinal upset or diarrhea, loss of sense of taste or smell.
Exposure to other household members or coworkers who are sick or report any of the above symptoms
Strict limitation in social contacts and distancing 21 days prior to the procedure.
This limits the patient to contact only with family members of the same household. No travel within 4 weeks, and if working it must be either from home or in a strictly controlled setting which provides more than adequate distancing practices
An on-site in office Covid antibody screening test is performed 10 days prior to the procedure (IgG, IgM), the result is obtained on-site within 15 minutes
Repeat testing is performed the day of surgery in pre-op
Patient is further instructed on strict social distancing in the time leading up to surgery including avoiding all public spaces except for work and home
Subsequent careful monitoring of the patient for any newly developing symptoms of possible Covid-19 from that preop visit leading up to the day of surgery.
OPERATIVE DAY PROTOCOLS
Equipment is standard as for routine surgeries performed following universal precautions with additional safety measures
PPE (Personal Protective Equipment) :
Sterile masks (N95)
surgical masks
Eye protection
Cavicide solution
Sanitization wipes/ sprays
Gloves at all stations
Protocols for surgery receiving (preop through discharge)
arrival times are staggered for one patient only.
2-4 total patients maximum per day at the facility with no overlap of any patients at any stage of pre-op, OR, or in Pacu
patient calls center upon arrival to the parking lot
Patient is greeted outside and a temperature gun is used to brain a reading prior to entry into the facility.
If the temperature is normal the patient is escorted alone into receiving and the family returns only for pickup after the patient is recovered
No family in the waiting room or lobby
Patient is directed into the preop bathroom for a urine sample and then preop bay for changing into a gown and being prepared for surgery
Nursing applies a finger prick Covid-19 antibody test ( this is a repeat of the preop test administered 10 days earlier.
The Patient is given a mask to wear while interacting with staff in preop/receiving.
All staff members are wearing gloves and mask/protective eyewear
Intravenous catheter placement is performed by nursing
Anesthesia and surgeon separately interview the patient
Patient taken into OR suite and their face mask is removed for airway management and administration of anesthesia.
Upon completion of surgery patient is moved to the post-anesthesia care unit
One assigned PACU nurse strictly dedicated for one-on-one care will recover patient in protective gear until discharge
Patient is discharged when appropriately stable
Nurse reviews instructions with one single family member who must be in a mask at 6/8 foot distance in the discharge area
Typically at the exterior canopy
Nurse replaces all PPE prior to receiving the next recovery patient
Facility sanitization and maintenance:
Each bay is mopped, bedding sheets changed and all surfaces sanitized before use by each individual patient. (Pre-op, OR, Pacu)
Cleaning of the facility including receiving and discharge areas daily as well as between patients when used.
POST-OPERATIVE CARE (follow-up)
each post-operative visit is done on a one on one basis.
no lobby or waiting room visitation is allowed
NO-STANDING, NO-WAITING protocol is followed at all times in the office as patients are only directed to and from the outside between their vehicle and a single prepared examination room.
patients call into office upon arrival to the parking lot
patient and any accompanying family member must wear a face mask into the facility on all visits
the patient alone is escorted directly into an examination room by a staff member wearing a face mask and at an appropriate distance of 6 feet or greater (exceptions are allowed if the patient needs assistance to walk in or out of office by a family member who will also be required to wear a mask
physician examination is performed with mask and gloves protective wear
if the patient is seen alone instructions and clarifications are made by the physician to family members via phone as appropriate
each examination room is completely sanitized prior to re-use
follow up appointments are made by phone once the patient leaves the premises.
Close
Get Started Send Us A Message