A neck lift, technically called a cervicoplasty, is a surgical procedure performed to reduce the appearance of loose, sagging skin below the chin, around the jawline, and on the neck to create a more refined, structured and youthful appearance.
What is a neck lift or cervicoplasty?
A cervicoplasty, or neck lift, is a procedure that restores a refined chin and jawline by removing excess fat and loose skin below the chin and on the neck sometimes referred to as a "turkey wattle" and "double chin." It is often performed with the addition of a platysmaplasty, which tightens the underlying neck muscles for a smoother neck structure. Using small, carefully placed incisions and liposuction, a neck lift is a detailed and involved surgical procedure that delivers long-lasting, dramatic results – and takes years off your appearance.
What can a neck lift do for me?
A neck lift addresses the signs of aging skin and excess tissue and fat. This procedure is an age-defying surgery, and does the following:
Restores a youthful, defined jawline
Removes excess under-chin fat, skin, and tissue
Tightens loose neck muscles
Creates a smooth, refined neck appearance
Smooths away vertical neck bands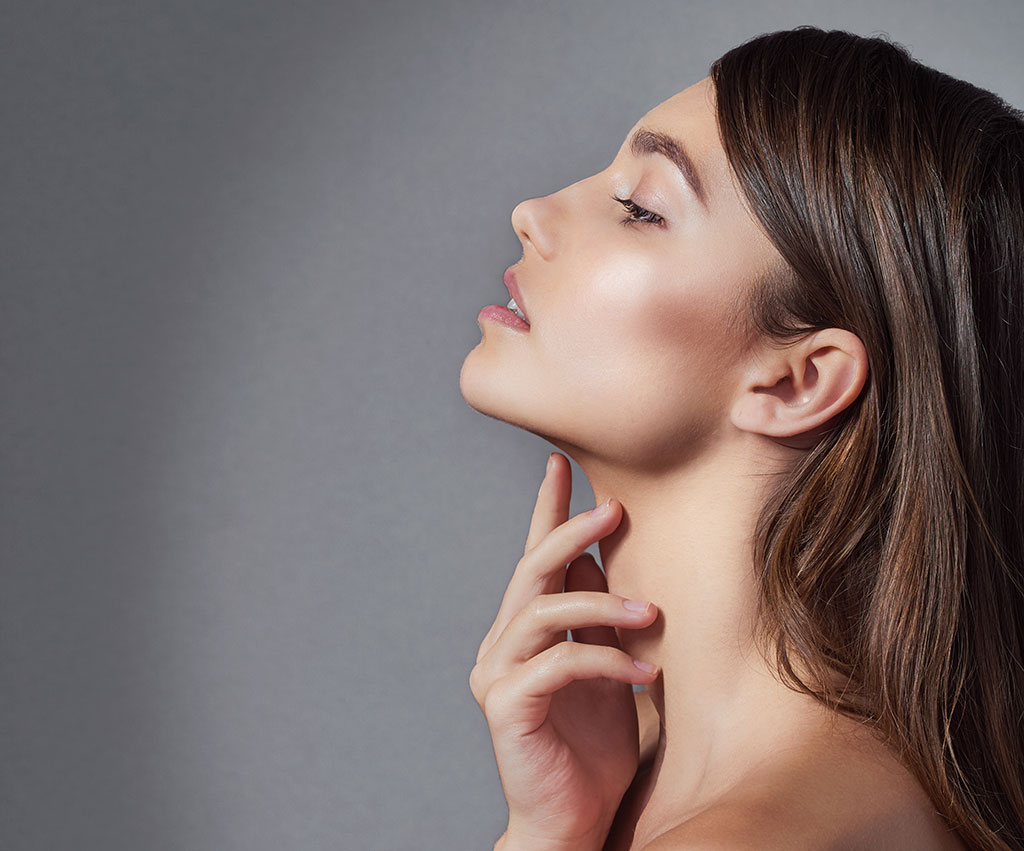 What can I expect from a neck lift?
Before your neck lift in Scottsdale, you will meet with Dr. Malek in a private consultation to discuss your desired results and what surgical technique will achieve your vision. He will be able to advise you if you only need the cervicoplasty alone or the addition of the platysmaplasty based on the condition of your neck muscle tone, and the quantity of fat to be removed. He will also be able to advise you on whether local or general anesthesia is appropriate for your personalized procedure.
At the start of your procedure, our anesthesiologist will administer a local or general anesthesia to prepare you for the procedure. In most cases, two different incisions are needed. The incision sites are behind the ears and beneath the chin. If there is also fat to be removed, Dr. Malek will use gentle liposuction to remove the fat cells with a cannula (hollow needle) and a suction device. Once the excess skin and fat has been removed, the underlying muscles are tightened. After the procedure is completed, our surgeon will apply sutures to close the incisions and then securely bandage the treated area.
What is recovery like after a neck lift?
After a neck lift, most patients can return home within several hours, based on the type of anesthesia and the extent of the procedure. Most patients will need to wear compression bandages for a week or more to keep swelling down and sutures may be removed at that time. Our plastic surgeon will provide prescriptions for the appropriate antibiotics and painkillers as well as detailed aftercare to ensure you have a successful and rapid recovery.
You may experience some pain and bruising that will dissipate after the first few days. Swelling can last for a week or more and most patients are allowed to return to work after one or two weeks, though some may take four weeks. While you may be able to return to the office after a week, you will need to adhere to a set of strict guidelines such as baths instead of showers, avoiding strenuous activity, and avoiding the sun for several weeks. Your doctor will outline the best ways to take care of your newly refined and tighten neck and jawline for the best results and easy recovery.
Am I a good candidate for a neck lift?
If you are tired of seeing excess sagging skin and fat under your chin, along the jaw, and on the neck, you may be a good candidate for a neck lift. Many patients are mature in age and are experiencing the unfortunate impact of time and gravity on the neck. Others may have recently lost a significant amount of weight, which left loose, sagging skin on the neck. This can cause a lack of self-esteem that can play havoc on your confidence in your body image. If either of these situations describe you, a neck lift could help you look years younger, refreshed, and rejuvenated.
The best candidates for a neck lift are non-smokers, in good health, and are fully informed about the procedure itself, the recovery, and what to expect.
Why should I choose Dr. Marc Malek for my neck lift?
If you are considering a neck lift in Scottsdale or Phoenix areas, Dr. Marc Malek should be at the top of your list. He is regarded as being among the finest board-certified plastic surgeons practicing in the Phoenix and Scottsdale areas. Dr. Malek is board certified by the American Board of Plastic Surgeons and is a prominent member of the American Society of Plastic Surgeons, the Arizona Medical Association and the American Medical Association. Dr. Malek brings his artistic eye and impressive surgical skills to every procedure and has dedicated professional life to the art of plastic surgery.
Neck lift/cervicoplasty FAQs
When will I see results to my neck lift?
Initial results will be visible immediately though swelling will keep full results from appearing until a couple of months. Your results will improve over time with the full results expected in about six to seven months after your neck lift procedure.
How long do the results of a neck lift last?
While a neck lift is a long-term solution to the excess sagging skin beneath the chin and jawline, unfortunately, the aging process cannot be halted! A neck lift can take decades off your appearance and will keep you looking younger for many years than if you had not undergone the procedure. As with a facelift, you may need a touchup ten to fifteen years down the line, with proper skincare, a healthy lifestyle, and limited sun exposure, you can expect your results to last a decade or more. Imagine a sculpted, youthful neck and jawline, and appearing years younger – our patients are thrilled with the results.